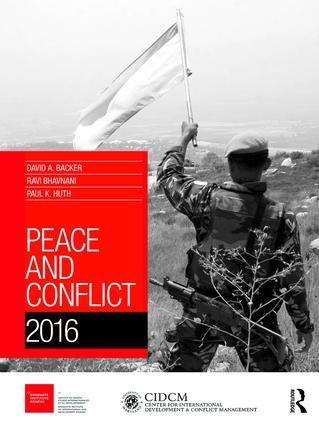 Welcome to Peace and Conflict 2016, CIDCM's biennial publication providing key data and documenting trends in national and international conflicts.
Regular features include chapters that forecast the future risks of political and social instability, as well as report trends and patterns in conflict, democratization, and terrorism.
Contributors to Peace and Conflict 2016 include Caroline Bergeron, Nils-Christian Bormann, Tilman Brück, Halvard Buhaug, Lars-Erik Cederman, Deniz Cil, David E. Cunningham, Karsten Donnay, Laura Dugan, Hanne Fjelde, Aude-Emmanuelle Fleurant, Mark Gibney, Kristian Skrede Gleditsch, Peter Haschke, Lisa Hultman, Madhav Joshi, Patricia Justino, Roudabeh Kishi, Anupma Kulkarni, Gary LaFree, Andrew M. Linke, Brad Parks, Yannick Quéau, Jason Michael Quinn, Clionadh Raleigh, Idean Salehyan, Margareta Sollenberg, Håvard Strand, Michael J. Tierney, Philip Verwimp, Manuel Vogt, and Reed M. Wood.
Peace and Conflict 2016
Contents
Chapter 1
Introduction to Peace and Conflict 2016
David A. Backer, Ravi Bhavnani, and Paul K. Huth
Section I. Global Patterns and Trends
The Cutting Edge of Research on Peace and Conflict
Karsten Donnay and Ravi Bhavnani
Chapter 3
Armed Conflict, 1946-2014
Håvard Strand and Halvard Buhaug
Chapter 4
Patterns and Trends of the Geography of Conflict
Roudabeh Kishi, Clionadh Raleigh, and Andrew M. Linke
Chapter 5
Violence against Civilians during Civil War
Hanne Fjelde, Lisa Hultman, and Margareta Sollenberg
Chapter 6
Non-State Actors in Civil War
David E. Cunningham, Kristian Skrede Gleditsch, and Idean Salehyan
Chapter 7
Democracy, Ethnic Exclusion, and Civil Conflict: The Arab Spring Revolutions from a Global Comparative Perspective
Manuel Vogt, Nils-Christian Bormann, and Lars-Erik Cederman
Chapter 8
Global Terrorism and the Deadliest Groups since 2001
Gary LaFree and Laura Dugan
Chapter 9
Defense Spending, Arms Production and Transfers: The Political Economy of Defense in a Transitional Phase
Aude-Emmanuelle Fleurant and Yannick Quéau
Chapter 10
Global Trends in the Implementation of Intrastate Peace Agreements
Jason Michael Quinn and Madhav Joshi
Chapter 11
Why States Repress: Evaluating Global Patterns of Abuse with the Political Terror Scale
Reed M. Wood, Mark Gibney, and Peter Haschke
Chapter 12
Foreign Aid and Conflict: What We Know and Need to Know
Bradley Parks, Michael J. Tierney, and Caroline Bergeron
Chapter 13
The Peace and Conflict Instability Ledger: Ranking States on Future Risks
David A. Backer and Paul K. Huth
Section II. Special Feature
Chapter 14
New Developments in Measuring the Welfare Effects of Conflict Exposure at the Micro-Level
Tilman Brück, Patricia Justino, and Philip Verwimp
Section III. Profiles
Chapter 15
Active Armed Conflicts in 2014
Margareta Sollenberg
Chapter 16
United Nations Peacekeeping Missions Active in 2014
Deniz Cil
Chapter 17
Criminal Justice for Conflict-Related Violations–Developments during 2014
Anupma Kulkarni
Previous Editions:

Peace and Conflict 2014
Paradigm Publishers
© 2014
ISBN: 1612054353
pages 192
Paradigm Publishers
© 2011
ISBN: 1612050891
pages 160