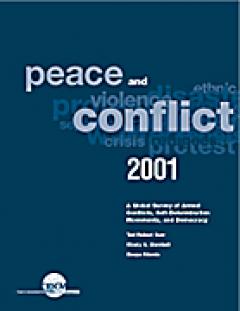 Summary
Peace and Conflict 2001 is the first publication from the Integrated Network for Societal Conflict Research (INSCR). This full-color, 40-page "global report card" details major trends in armed conflict, self-determination movements, and democracy through the contemporary era (1946-2000) and provides a "conflict ledger" assessing each country's "peace-building capacity" at the turn of the new millennium.
/sites/cidcm.umd.edu/files/peace_and_conflict_2001.pdf

Peace and Conflict 2001
Contents
Chapter 1
Introduction
Chapter 2
The Peace and Conflict Ledger
Chapter 3
Global Trends in Violent Conflict
Chapter 4
Self-determination Movements and Their Outcomes
Chapter 5
From Autocracy Toward Democracy
Chapter 6
Policy Implications
Chapter 7
Appendix
Gurr, T. R., Marshall, M. G., & Khosla, D. (2000). Peace and conflict 2001: A global survey of armed conflicts, self-determination movements, and democracy. Maryland: University of Maryland, Center for International Development and Conflict Management.