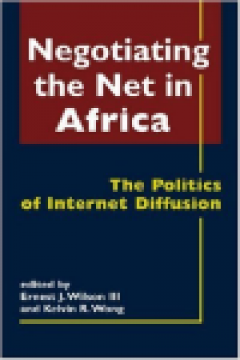 Publisher
Lynne Rienner Publishers
Summary
Why do national patterns of Internet expansion differ so greatly throughout Africa? To what extent do politics trump technology? Who are the "information champions" in the various African states? Addressing these and related questions, Negotiating the Net in Africa explores the politics, economics, and technology of Internet diffusion across the continent.
The "Negotiating the Net" framework is applied consistently to chapters on Ghana, Guinea-Bissau, Kenya, Rwanda, South Africa, and Tanzania, allowing a rich, comparative analysis based on in-country research and extensive interviews with key stakeholders. Three broader chapters reflect a cross-cutting perspective. The result is a comprehensive discussion that, while dealing specifically with Africa, is also highly relevant to other regions in the developing world.
Ernest J. Wilson III is professor of government at the University of Maryland and senior research fellow at the university's Center for International Development and Conflict Management (CIDCM). His numerous publications include, most recently, The Information Revolution and Developing Countries and Does the Global Information Highway Lead to Africa?, and he is founding editor in chief of the journal Information Technologies and International Development. Kelvin R. Wong is assistant research scientist at the University of Maryland and senior associate at CIDCM. He is comanager of the Africa Telematics Project, which focuses on research, policy reform, and project implementation in the field of information and communications technology.
CONTENTS.
* Introduction: Negotiating the Net in Africa—the Editors.
* Ghana: The Politics of Entrepreneurship—E. Osiakwan, W. Foster, and A. Pitsch Santiago.
* Guinea-Bissau: "Pull and Tug" Toward Internet Diffusion—B.M. King.
* Kenya: Diffusion, Democracy, and Development—M. Muiruri.
* Rwanda: Balancing National Security and Development—A. Nsengiyumva and A. Pitsch Santiago.
* South Africa: The Internet Wars—C. Lewis.
* Tanzania: From Padlocks to Payments—J. Miller.
* The Role of International Cooperation—L. Adam.
* Conclusion—E.J. Wilson III. 
 Wilson, E. J., & Wong, K. R. (2007). Negotiating the net in Africa: The politics of internet diffusion. Boulder, CO: Lynne Rienner.