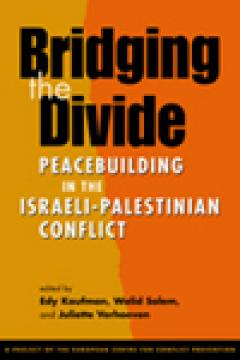 Publisher
Lynne Rienner Publishers
Summary
In the midst of the continuing violence of the Israeli-Palestinian conflict, there are many who remain committed to moving forward on the road to peace. The Palestinian and Israeli contributors to this book, recognizing the great potential of civil society and NGOs for the peacebuilding process, focus on realistic opportunities for conflict transformation.
Drawing from the experiences of the post-Oslo period, seeking to learn from the mistakes that have been made, the authors concentrate on possibilities for just solutions that will enable both peoples to live in peace, safety, and prosperity. Their work is part of the Searching for Peace Series, a program of the European Centre for Conflict Prevention. 
Kaufman, E., Salem, W., & Verhoeven, J. (2006). Bridging the divide: Peacebuilding in the Israeli-Palestinian conflict. Boulder, CO: Lynne Rienner.