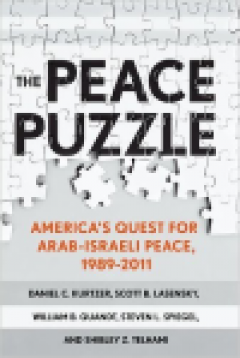 Publisher
Cornell University Press
Summary
Each phase of Arab-Israeli peacemaking has been inordinately difficult in its own right, and every critical juncture and decision point in the long process has been shaped by U.S. politics and the U.S. leaders of the moment. The Peace Puzzle tracks the American determination to articulate policy, develop strategy and tactics, and see through negotiations to agreements on an issue that has been of singular importance to U.S. interests for more than forty years.
In 2006, the authors of The Peace Puzzle formed the Study Group on Arab-Israeli Peacemaking, a project supported by the United States Institute of Peace, to develop a set of "best practices" for American diplomacy. The Study Group conducted in-depth interviews with more than 120 policymakers, diplomats, academics, and civil society figures and developed performance assessments of the various U.S. administrations of the post-Cold War period. This book, an objective account of the role of the United States in attempting to achieve a lasting Arab-Israeli peace, is informed by the authors' access to key individuals and official archives.
Kurtzer, D. (2013). The Peace Puzzle: America's Quest for Arab-Israeli Peace, 1989-2011. Cornell University Press.