Professor Hoda Mahmoudi holds the Bahá'í Chair for World Peace at the University of Maryland [link]. The Chair is an endowed academic program that advances interdisciplinary examination and discourse on global peace. Professor Mahmoudi has served in this position since July 2012. 
As the Bahá'í Chair professor, Dr. Mahmoudi develops a sound scientific basis for knowledge and strategies that explore the role of social actors and structures in removing obstacles to peace and creating paths to a better world.  In pursuit of this goal, she collaborates with a wide range of scholars, researchers, and practitioners. In particular, Professor Mahmoudi advocates a broad concept of peacemaking—which she refers to as a "worldview approach"—that draws insights from all cultures. 
Before joining the University of Maryland faculty, Professor Mahmoudi served as the head of the Research Department at the Bahá'í World Centre in Haifa, Israel from 2001 to 2012. Her Bahá'í service also includes administrative appointments and assignments at the international and national levels. 
Previously, Dr. Mahmoudi was Dean of the College of Arts & Sciences at Northeastern Illinois University, where she was also a faculty member in the Department of Sociology. Professor Mahmoudi served as Vice President and Dean of Olivet College, where she was instrumental in an institutional transformation that generated national recognition. She has presented her ideas on institutional change before various high-profile forums, including Harvard University's Institute for Educational Management and the Wharton Institute for Research on Higher Education at the University of Pennsylvania. 
As an active scholar and researcher, Dr. Mahmoudi has secured and supervised significant institutional grants from prestigious organizations such as the National Endowment for the Humanities, the Kellogg Foundation, and the National Science Foundation. As the Bahá'í Chair professor, she is committed to working with UMD faculty and students to develop innovative, interdisciplinary research proposals. 
In 2013, University of Maryland published Professor Mahmoudi's Bahá'í Chair inaugural lecture, Vision and Prospects for World Peace (2013). 
Professor Mahmoudi's writings on subjects such as formal organizations, medical sociology, cross national research, and women's studies have appeared in leading publications, including Organizational Studies, Group and Organization Studies, International Review of Modern Sociology, and The Journal of Bahá'í Studies.  Her essay on "Altruism and Extensivity in the Bahá'í Religion" (co-authored with Wendy Heller) appears in the volume Embracing the Other:  Philosophical, Psychological, and Historical Perspectives on Altruism. 
Olivet College granted Professor Mahmoudi special recognition for her support of and service to students of color and for her work on diversity issues and international education. She is also the recipient of many awards and honors, including the Award for Excellence in Bahá'í Studies, the Hewlett Grant for Faculty Development, and the Professor of the Year award from Westminster College of Salt Lake City. 
Dr. Mahmoudi holds a Ph.D. in sociology, a M.A. in educational psychology, and a B.A. in psychology from the University of Utah.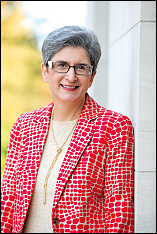 1114 Chincoteague Hall
Center for International Development and Conflict Management