May A. Rihani is the Director of the George and Lisa Zakhem Kahlil Gibran Chair for Values and Peace at the College of Behavioral and Social Sciences at the University of Maryland. Before joining the University of Maryland, Ms. Rihani has for the past 30 years served as Senior Vice President at FHI360, the Academy for Educational Development (AED), and Creative Associates International. She also served as Vice President at TransCentury. In these organizations, Ms. Rihani was responsible for ensuring the planning and implementation of educational projects as well as the integration of gender perspectives in programs in education, economic productivity, and health. She designed, planned, and managed numerous cross-cutting education projects in Africa, Asia, and the Middle East. 
Due to her global experience in gender, Ms. Rihani was elected as the Co-Chair of the United Nations Girls' Education Initiative, (UNGEI), from 2008 to 2010.
Ms. Rihani's extensive work in education and gender includes research, policy assessments, innovative program designs, training, systems analysis, and management of country programs.  She presented lessons learned, best practices, and strategies on education at a large number of international conferences and symposia. Ms. Rihani is also an international leading voice on the relationship between girls' education and health, nutrition, and economic productivity.  May Rihani worked in over 40 countries and traveled to 71 countries. Her in-depth knowledge in education and gender equity has attracted the attention of many donor organizations that have sought her ideas and analytical skills to support their missions.
In addition to her work in international educational development and women's empowerment, May Rihani is a writer and a poet. She wrote and published five books in English and three poetry books in Arabic. Her latest book, a memoir, is titled:  Cultures Without Borders.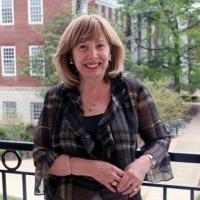 3101 Chincoteague Hall
Center for International Development and Conflict Management